Ballers
Boys Basketball Season Gets Underway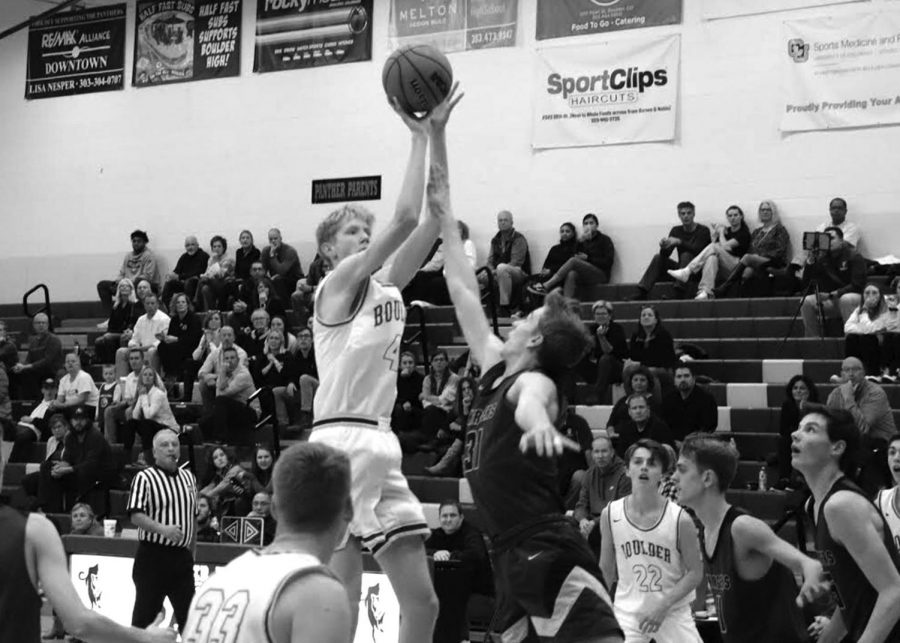 The boys basketball team is anticipating another great, victory-filled season this winter. The Panthers had a revolutionary run last year under new coach and former professional player Riley Grabau, in which they went 10-2 in the Front Range League and made it to the second round of the state championship playoffs. In addition, the team defeated bitter rival Fairview High School after losing to them the previous three years. This year, the Panthers hope they can build on their newfound success in their upcoming games. 
Many returning players for Boulder who had outstanding seasons last year are hungry for the new challenges that this season will bring. Returning stars to look out for include senior guards Tyler Turner and Adam Sessions, junior forward Alex Rucker, senior forward/center Pete Boyle, and versatile senior Giles Schmid. Also, senior Caleb Wehmuller has come back into the fold after suffering a brutal ACL injury at the start of last season.
With the utmost enthusiasm for the team's upcoming season, senior Pete Boyle stated, "I think we have a talented enough group to contend for state." Despite his belief in his team, Boyle clarified his aspirations, mentioning that "right now [the team's] goal is just to win our first game." Boyle added that the team can be successful this season so long as they "stay focused and continue to approach practice every day as a chance to get better."
Head coach Riley Grabau is also delighted to start a new season. "I'm very excited," Grabau said, "We have a great group of kids that are fun to be around, and I'm excited to be able to go battle with them." Last season, Grabau's players struggled at the beginning of their season, with a demoralizing eight game losing streak. However, Grabau was able to rally his team to turn things around in the second half of the season, and together they made a run to the second round of the state playoffs. When speaking on his method of promoting team success, Grabau mentioned that he coaches his players to follow the acronym "ADU," which asks players to be aggressive, disciplined and unselfish. By prioritizing these three concepts, Grabau believes his team can continue to improve upon their achievements from the second half of last season. Without minimizing the importance the games the Panthers have in their near future, Coach Grabau looks ahead to the end of the season with hope. "I would like to get farther than we did last year," mentions Grabau, "Only time will tell what's going to happen for our team, but I'm going to do my very best and I know my kids are going to do their very best. "
Don't miss out on the Boys Basketball team's season as they look to continue their historic success from last year. Anyone who attends a game this season is bound to be thoroughly entertained. Good luck to the team, and go Panthers!