Boulder Boys Soccer
Once again one of the best in the state
Boulder High School Boys Soccer competed in their final game down in Parker, Colorado, on Nov. 13th. Over 50 Panthers traveled to cheer on their team, bundled in purple and gold with punny signs in hand and with spirited chants echoing across the stadium. The team finished with a 15-4 record, marking the end to a successful season. 
When asked what led to their success, senior Elijah Boykoff explained, "We probably spent 15 hours a week together. This really fostered a closeness between teammates. I had close bonds with all the people I played with, and that led us to be on the same page in games." One could definitely notice this in their final game. BHS defenders such as Micah Blackburn and Bishal Ellison efficiently worked out of the back, and midfielders including Luke Kreidl and Isaac Sherman successfully passed between Broomfield's defensive line to forwards like Sam Phillips and Arroll Taekla. Although BHS dominated possession throughout the game, the Panthers were only able to tie with Broomfield's one goal, forcing the game to go into overtime (golden goal). A lucky shot by Broomfield from about 25 yards away ended the game.   
Max Neumann, a critical player for BHS – and famous for scoring two goals in an overtime win against Boulder's rival Fairview – played center forward in the semi-final. He explained that the best part of their final game was that they "stayed positive throughout." Neumann added, "It was unfortunate it turned out how it did. We had plenty of chances that could have gone in, but they had plenty of chances, too." Toby Bateman, Boulder's goalkeeper, saved multiple of Broomfield's chances, at one point saving an onslaught of three shots in the span of seconds to keep his team alive.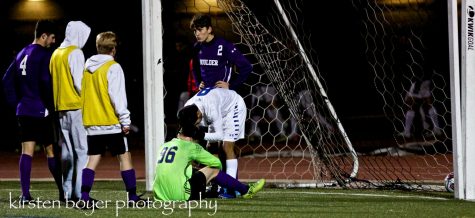 Although they didn't win their final game, Boulder Boys Soccer ended their season as one of the best teams in the state. Seniors such as Micah Blackburn, Curran English, Max Neumman and Sam Phillips exhibited strong leadership throughout the season, on and off the field. They led warmups and organized the team during games to ensure that they had some strong wins, such as a 4-0 domination over Rocky Mountain in the state quarterfinals. Team Rowdy and students from all grades rallied behind their team throughout their journey to the semi-finals, supporting them through wins and losses.
The team had to say goodbye to multiple talented and strong senior players, but next year the Boulder High boys soccer team plans to build on this year's success and make a run to the State Championship. They will continue to represent Boulder High in the highest levels of competition, with the spirit of "La Familia" in their hearts and the aspiration to "be everywhere all of the time."