Is This the Best Little Women Remake Yet?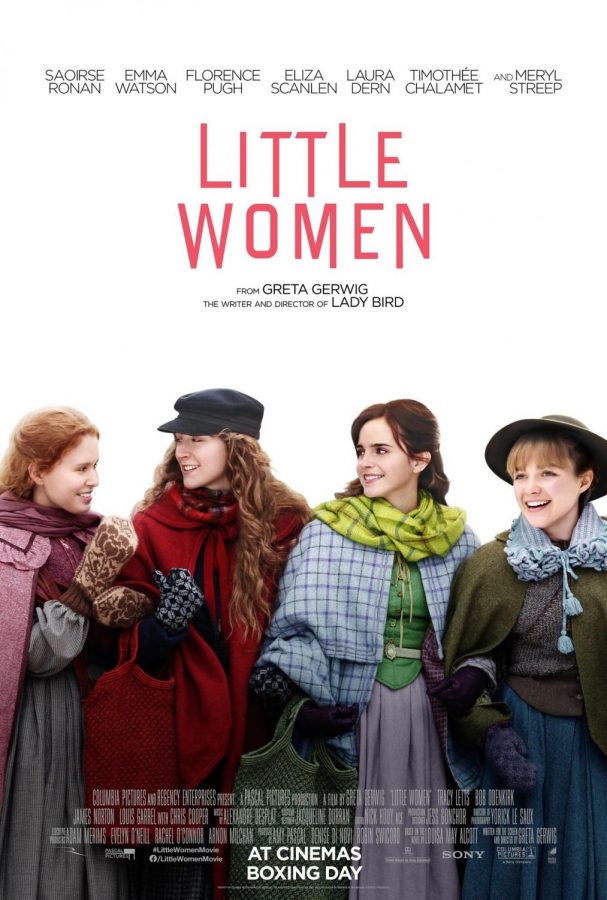 Greta Gerwig's re-telling of the classic story of Little Women is a masterpiece. With stunning imagery and fantastic acting, she portrays the story of the little women—Joe, Amy, Meg, Beth and their mother in a poignant and breathtaking film. It follows the sisters through heartbreak and love, through times of sorrow as well as joy and all the pangs that accompany growing up. With a cast populated by academy-award nominees and winners, the characters are brought to life and take on new meaning as we recognize some extremely talented actors taking on the roles of the little women and their close friends, including Saoirse Ronan (Joe), Meryl Streep (Aunt March), Emma Watson (Meg), Florence Pugh (Amy), and Timothee Chalamet  (Laurie), as well as many others. The movie is displayed beautifully—the combination of skillful direction with an incredible set and costume design creates a movie that's thematically and visually stunning. Although a light-hearted tale, it carries an almost surprising amount of emotional weight.
It'll be sure to tug at the heartstrings of anyone who has close bonds to their sisters and will warm hearts with themes of friendship and images of cozy New England winters. Little Women also delves into more difficult topics, covering struggles with acceptance versus following your dreams in a time when women were limited to a very small role in society. The storyline of Little Women is relatively well-known (and well-loved). There have been multiple film adaptations, and Greta Gerwig acknowledges this, yet also creates a new experience for possibly hesitant viewers by jumping in and out of time periods. Gerwig starts off the movie near the end of their story and slowly hopscotches her way back through time, and then ultimately moves towards the final ending. Although this jumbled-up timeline could potentially have the impact of confusing viewers, the fact that it doesn't have a sequential sequence of events strengthens the film. What Gerwig focuses on isn't exactly the storyline—it's more about the triumphs as well as the failures that the girls face in their lives as the "little women." What will ultimately resonate with viewers is the messages of the movie and the lessons that the characters conveyed: to follow your dreams and to love the people around you. Although set more than a century back, Little Women is a story that remains pertinent to our current era and is a movie that is a worthwhile watch for all. It's an inspiring and thoughtful movie, and I would highly recommend watching it if you haven't already.