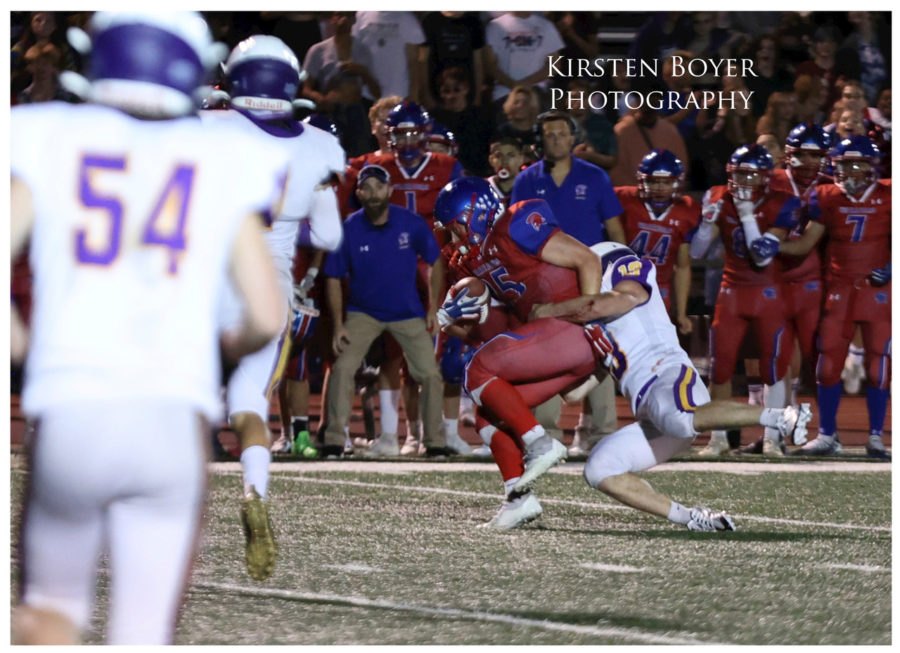 Kirsten Boyer/Kirsten Boyer Photography
The time on the clock read one minute and thirty-five seconds left in the fourth quarter. With the Boulder High Panthers leading 16-10 over the Centaurus Warriors, the Warriors held the ball at the 20-yard line and a touchdown would win them the game. Fourth down and short was quickly upon the Warriors, and they needed a first down to keep their hope of winning the game alive. Centaurus hiked the football and the quarterback hit on a short check-down to the running back, but Boulder's stifling defense swarmed to the ball and tackled the running back before he could reach the first down marker. The crowd erupted, as this stop meant Boulder was just a few QB kneels away from winning their first game of the season. 
This was one of the most important scenes of the first Boulder High football game of the season at Centaurus High that occurred on Friday, August 26, a cool, tense night. For an away game "our crowd was electric," claimed Colby Clark '23. Although it took until about the middle of the second quarter for the section to get organized, once it had banded together, it felt as if it were a game at home. While the seniors led most of the chants, juniors were great members of the crowd, as they were loud and successfully riled up the rest of the students. 
This game was not an offensive game, as the Panthers only won the game 16-10. But our defense was lights out. "Our whole defense played tough and gritty from the first snap to the last…" stated CB/RB Ethan Kunkel '23. Boulder High had multiple sacks on the opposing quarterback and didn't allow many deep completions. One play that stood out was Walker Hungate's pick in the endzone that shut down a long drive by Centaurus. The Centaurus QB fired a short pass over the middle of the field, but Hungate darted in front of the opposing receiver and intercepted the ball. The interception was a turning point in the momentum of the game and got Boulder's students riled up. 
Taking home a win in the first game of the season is an important milestone that should provide confidence and team chemistry for the team moving forward. "We played our hearts out and we hope to bring the same energy to games in the future," said Junior Linebacker Blake Mechels. Not only was this game important to the players, but it was also important to the Coach. This was the first game for head coach Casey Gieger in his career at Boulder High. This win made it obvious that coach Gieger's playbook is effective and is a good omen for the season to come.   "The game was a blast and I'm excited to attend more," said Brady Hudson, a Junior at Holy Family.