Ableism at BHS
For years, disabled and chronically ill people have been asking for online options. Not all teachers post their daily work on Schoology or Google Classroom, so when a sick student is absent for months at a time, they have few resources to help them catch up. The system, therefore, discriminated against those who were prone to medical absences; it was ableist because it made things harder for people who weren't perfectly healthy or able-bodied.
But why change the entire system for a small handful of students? The truth is that it's not a small handful. Nearly half of all Americans suffer from chronic illness. One out of every fifteen have some sort of autoimmune disease, and younger people are disproportionately affected. In a survey of Boulder High students, 24.5% of respondents said they were immunocompromised, and though it's important to acknowledge that this survey was specifically directed at the disabled, it's still a startlingly high number, far more common than you'd think.
During the pandemic, virtual learning provided a brief respite because all the documents were online. Teachers linked their daily agendas, kept calendars, and attached materials. In advisory, they set up a Google Meet. Everyone was on equal footing. Though of course it was a step in the right direction, there's no denying it came about only because it was essential for able-bodied people, who finally found themselves in a situation where web resources were their only option. The increase in online info had nothing to do with the years worth of pleading by the disabled; if the pandemic hadn't hit, their needs would have been ignored like they always were.
Now we've returned to in-person classes, and though many teachers preserved their well-kept Schoologys, others took the opportunity to get as far away from online learning as possible. Agendas and calendars are gone. If you miss a day, you can't consistently find the make-up work. Advisory isn't available as a Google Meet.
For immunodeficient and chronically ill people, it's a disappointing return to the old ways, even more bitter because it shows the disparities in who is actually getting priority. These resources, so important for disabled individuals, are no longer necessary for abled individuals, so they're disappearing. They're seen as inconvenient to maintain, so teachers are stripping away what would otherwise be a wealth of helpful materials.
Now, with the sharp increase of the omicron variant, the cracks in the system are starting to show. When a student gets Covid, they could be gone for over a week, able-bodied or not; in some subjects, they're left without resources, unable to do make-up work. Hybridized learning was incredibly hard on teachers, and there's no such thing as a perfect solution, but would it be too much to ask for daily plans on Google Classroom or an open Meet during advisory?  The voices of the disabled are being ignored once again.
But how does this apply to BHS? In the survey mentioned earlier, 67.3% of respondents said they've had to choose between their health and their education, immunocompromised or not. For those with chronic illnesses, the number increases to a staggering 83.3%. Similarly, 50.0% claimed their teachers do not post resources online. "[They're] often unempathetic to [those] who miss school even if they were sick or have rough home lives," one student asserted. "It's exhausting to keep up with unreliable teachers, excessive homework, and my rocky home life, as well as being responsible for my own mental health issues."
BVSD does have an online school, Boulder Universal, but it's a problem for the same reason virtual learning started to wear after a year. It didn't work for everyone, and though some thrived in their Zoom classes, others saw a decline in their grades or their mental wellbeing. It's unfair to ask immunocompromised people to sacrifice their social life or their real education just because of their health; sure, it would be safer, but it forces them to change their entire situation, which many protested when it happened to them. Is it really more reasonable to pressure a whole group into online learning rather than write up a report of the day's activities or link the weekly worksheets? 
But do web materials really fix the issue? According to students, the lack of online support is just the tip of the iceberg. One respondent, who wishes to remain anonymous, mentioned that even when everything is accessible on Schoology, "teachers use online resources as an excuse to not accommodate [students] because the resources are online and available." Éowyn P., '22, elaborates from their own experience. "I feel what some teachers don't understand is that if I miss a day because I'm super sick, I'm not sitting at home doing my homework. I'm resting and doing what I need to do to get well." When students are absent because they're too sick to do the work, the existence of online resources does not justify leaving them without help. They're an important first step, but they're not enough. We as a community need to change our mindset, learning to support those with chronic illnesses even when it requires a little extra effort.
Another problem is the attitude we have towards absences. "I think there is a stigma that you can't be a good student if you miss a lot of school, and some teachers have been hesitant to accept my 504 plan because they feel that because I am a good student, I shouldn't need one," Éowyn mentioned. "I wish that the system didn't punish students for getting work in late due to illness, especially chronic illness… Just because I'm sick a lot doesn't make me less intelligent or less capable of learning. I just need a little more patience than the average student."
The virus doesn't discriminate. It doesn't impact those with disabilities at a higher rate than those without. But it often hits harder. For people with autoimmune diseases, Covid can be fatal. In order to get an education, students are risking their lives. It's time to stop ignoring the needs of the disabled and finally improve both our online resources and how we treat those who miss school.
En Español:
Durante años, las personas discapacitadas y crónicamente enfermos han preguntado por opciones en línea. No todos los maestros publican su trabajo diario en Schoology o Google Classroom, así que cuando un estudiante enfermo está ausente por muchos meses, tienen pocos recursos para ayudarles ponerse al día. El sistema, por eso, discriminaba a los que eran propensos a ausencias médicas; era capacitista porque empeoró cosas para las personas que no eran perfectamente sanas o físicamente capaces.
Pero ¿por qué cambiar el sistema entero para un puñado pequeño de estudiantes? La verdad es que no es un puñado pequeño. Casi la mitad de todos los estadounidenses sufren por enfermedades crónicas. Uno de cada quince tiene algún tipo de enfermedad autoinmune, y las personas jóvenes son afectados desproporcionadamentes. En un sondeo de estudiantes de Boulder High, 24.5% de encuestados dijeron que eran crónicamente enferma o inmunocomprometido, y aunque es importante reconocer que este sondeo era específicamente dirigido a los discapacitados, todavía es un número sorprendentemente alto, mucho más común de lo que pensaría.
Durante la pandemia, el aprendizaje virtual proveía un alivio breve porque todos los documentos eran en línea. Los maestros ponían enlaces para sus agendas cotidianas, llevaban calendarios, y adjuntaban materiales. En advisory, establecían un Google Meet. Todos estaban en condiciones de igualdad. Aunque por supuesto era un paso en la dirección correcta, no puede negar que solamente sucedió porque era esencial para las personas físicamente capaces, que finalmente se encontraban en una situación donde los recursos de la red eran su única opción. El aumento de info en línea no tenía nada que ver con los años de ruego de los discapacitados; si la pandemia no hubiera ocurrido, sus necesidades pudieran haber sido ignoradas como siempre eran.
Ahora hemos regresado a clases en persona, y aunque muchos maestros preservaron sus Schoologies bien guardados, otros tomaron la oportunidad para alejarse todo lo posible del aprendizaje en línea. Agendas y calendarios desaparecieron. Si se pierde un día, no consistentemente se puede encontrar el trabajo para ponerse al día. Advisory no está disponible como un Google Meet.
Para las personas inmunodeficientes y crónicamente enfermos, es una vuelta frustrante a las maneras viejas, incluso más amargo porque muestra las disparidades en quien realmente están recibiendo prioridad. Estos recursos, tan importantes para individuos discapacitados, ya no son necesarios para individuos capacitados, así que están desapareciendo. Parecen ser inoportunos para mantener, así que los maestros están quitando lo que de otro modo sería una enormidad de materiales útiles. 
Ahora, con el aumento brusco de la variante ómicron, los problemas con el sistema están empezando a volverse obvios. Cuando un estudiante se enferma con Covid, puede estar ausente por más de una semana, físicamente capaz o no; en algunos temas, son dejados sin recursos, que no se pueden hacer el trabajo para poner al día. El aprendizaje hibridado era increíblemente difícil para maestros, y no hay nada como una solución perfecta, pero sería demasiado preguntar para planes diarios en Google Classroom o un Meet abierto durante advisory? Las voces de los discapacitados están siendo ignoradas otra vez.
Pero cómo se aplica a BHS? En el sondeo mencionado antes, 67.3% de encuestados dijeron que han tenido que escoger entre su salud y su educación, inmunocomprometido o no. Para aquellos con enfermedades crónicas, el número aumenta a un 83.3% asombroso. Similarmente, 50.0% aseguraron que sus maestros no publican sus recursos en línea. «Muchas veces son indolentes a [los] que se pierden la escuela incluso si están enfermas o tienen vidas domésticas duras,» en estudiante afirmó. «Es agotador mantenerse actualizado con maestros poco fiables, tarea excesiva, y mi vida doméstica inestable, igual que ser responsable de mis propios problemas de salud mental.»
BVSD si tiene una escuela en línea, Boulder Universal, pero es un problema por la misma razón que el aprendizaje virtual empezó a desgastar después de un año. No funcionó para todos, y aunque algunos prosperaban en sus clases en Zoom, otros veían una disminución en sus calificaciones o su bienestar mental. Es injusto pedir a las personas inmunocomprometidos a sacrificar a su vida social o su educación real solamente debido a su salud; es verdad que estaría más seguro, pero las obliga cambiar su situación entero, que muchos protestaban cuando pasaba con ellos. ¿Realmente es más razonable presionar a un grupo entero al aprendizaje en línea en vez de escribir una reseña de las actividades del día o publicar las hojas de ejercicios de la semana?
Pero ¿es que los materiales web realmente arreglan el problema? Según estudiantes, la falta de apoyo en línea solamente es la punta del iceberg. Un encuestado, que desea quedar anónimo, mencionó que incluso cuando todo está accesible en Schoology, «los maestros usan recursos en línea como una excusa para no adaptarse a los [estudiantes] porque los recursos son en línea y disponibles.» Éowyn P., '22, elabora de su experiencia en una cita traducida al español. «Siento como qué algunos maestros no entienden es que si me pierdo un día porque estoy muy enfermo, no estoy sentando en casa haciendo mi tarea. Estoy descansando y haciendo lo que necesito hacer para recuperarse.» Cuando los estudiantes están ausentes porque están demasiado enfermos para hacer el trabajo, la existencia de recursos en línea no justifica dejarlos sin ayuda. Son un primer paso importante, pero no son suficientes. Necesitamos cambiar nuestra mentalidad como una comunidad, aprendiendo cómo apoyar a los con enfermedades crónicas incluso cuando requiere un poco más esfuerzo.
Otro problema es la actitud que tenemos hacia ausencias. «Pienso que hay un estigma que no puedes ser un estudiante bueno si pierdes mucha escuela, y algunos maestros han sido renuentes a aceptar mi plan 504 porque sientan que porque soy un estudiante bueno, no debería necesitarlo,» Éowyn mencionó. «Deseo que el sistema no castigue a los estudiantes por entregar el trabajo tarde debido a la enfermedad, especialmente la enfermedad crónica… Solamente porque estoy enfermo mucho no me hace menos inteligente o menos capaz de aprender. Solamente necesito un poco más paciencia que el estudiante corriente.»
El virus no discrimina. No afecta a los con discapacidades a una tasa más grande que los sin enfermedades crónicas. Pero a menudo lo golpea con más dureza. Para personas con enfermedades autoinmunes, Covid puede ser fatal. Para recibir una educación, los estudiantes están arriesgando sus vidas. Es tiempo para dejar de ignorar las necesidades de los discapacitados y por fin mejorar nuestros recursos en línea.
Leave a Comment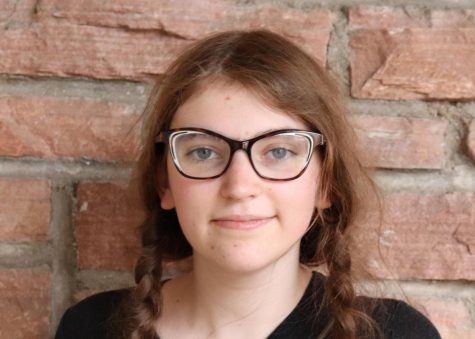 Tia Wagner, Staff writer
A senior at Boulder High, Tia developed her interest in journalism when she joined the newspaper club as a freshman. Over the course of her life, she's cultivated a deep love of writing as an outlet and a stress-reliever, which lead her to participate in multiple literary classes, from Mythology to Creative Writing and finally, in her last year, Newspaper 1. In terms of her articles, she does not intend to focus on any particular topic but hopes she will be able to bring a fresh perspective to the paper. 



Tia's hobbies include hiking, kayaking, and reading, preferably while sitting on her porch. She is a volunteer at the Humane Society and spends two hours a week taking care...