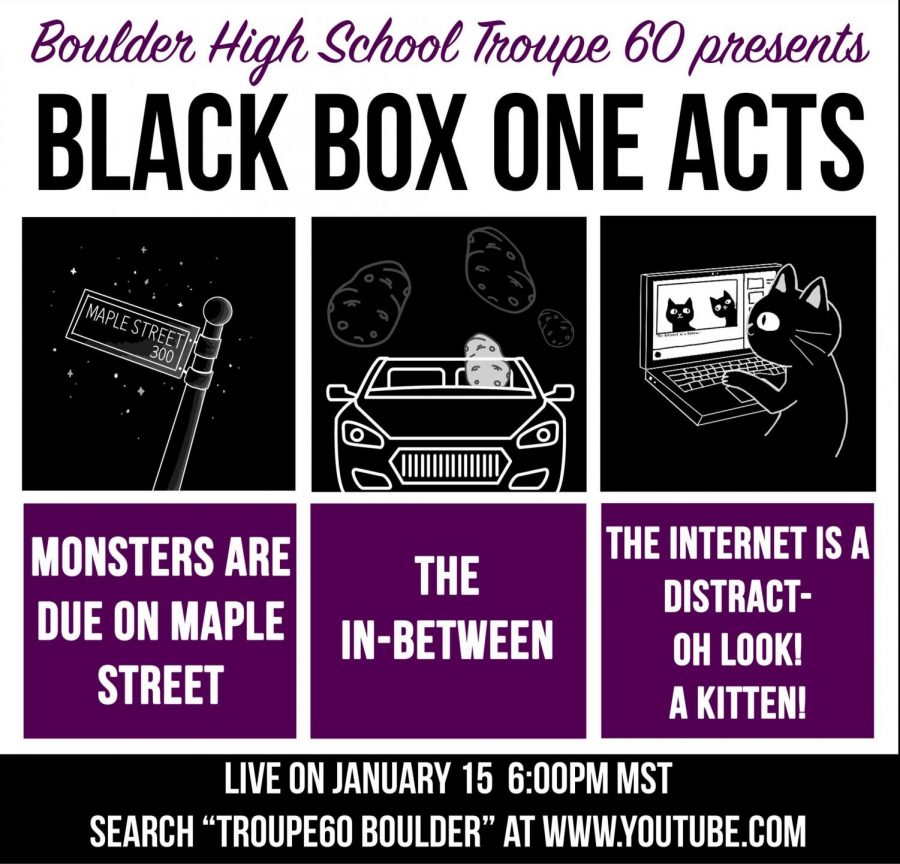 Virtual Black Box will be premiered LIVE at 6:00 pm MST on Friday, January 15th, at the Troupe60 Boulder youtube channel. The show is free and a great way to support Boulder High students, actors, directors and performers.

Many beloved traditions have fallen through the cracks with various COVID-19 rules and regulations. Fortunately, Troupe 60's annual Black Box, student-directed one-acts, is not one of them.
Usually, Black Box is performed in front of a small, intimate audience during the fall semester. Getting a front-row seat to a Black Box performance takes a combination of good timing and usually some light shoving. However, this year all it takes is dusting off your desk and logging onto your computer.
There will be three one-act performances: The Monsters are Due on Maple Street, The Time In Between and The Internet is a Distract – Oh Look a Kitten! 
In The Monsters are Due on Maple Street, Director and junior Leo Servetar and cast use puppets to turn a serious episode of The Twilight Zone into a whimsical and exciting story. Also, based on an episode of The Twilight Zone, Moses Markels directs The Time In Between, a potato-stop-motion that he and cast members wrote themselves. The last performance, directed by junior Lucy Mandlowitz, is The Internet is a Distract – Oh Look a Kitten!, tuning into the struggle we all know so well – trying to pay attention in a digital age with so many things begging for our attention. 
While you may think you know exactly what to expect from reading this blurb, there's no doubt that the hard work and determination put in by Troupe 60 members is certain to lead to a live stream full of surprises. With last year's musical, The Addams Family, being cut short and the annual Haunted House being canceled due to the pandemic, Virtual Black Box is a great opportunity to view a live performance, support Boulder High students and young artists and check out how Troupe 60 has worked hard to continue theater through a time where entertainment has been put on the back burner. 
For more information or any questions, reach out to Rachel. Zaring (rachel.zaring@bvsd.org) and Marlee. Smith (marlee.smith@bvsd.org). 
Black Box premieres LIVE at 6:00 P.M. on Friday, January 15th at Troupe60 Boulder on Youtube and will be available to stream at any time after the premiere.  
Watch Troupe 60's Intro Video Here