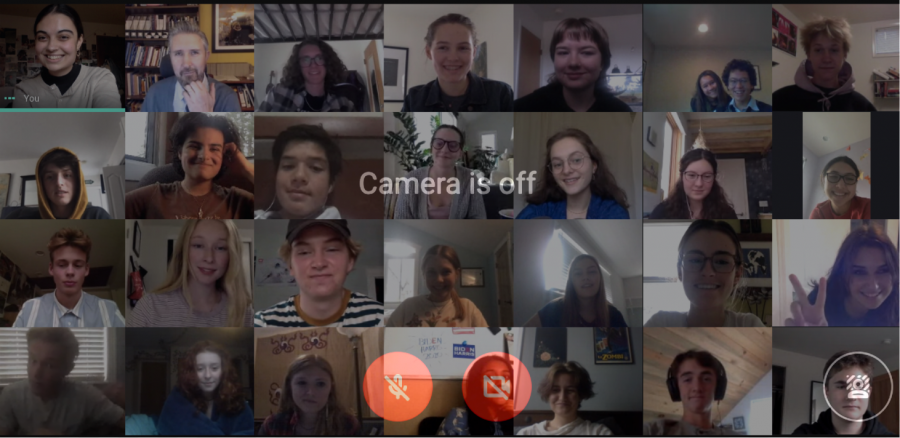 Isabel Oliver
Since being thrown into the world of online learning, having their cameras on has been unpopular amongst many Boulder High students. The debate of whether cameras should be required to be on has been one of the most discussed during this school year. A new policy at Boulder High was brought up during a recent discussion, stating that cameras will be required to be on during the spring semester of this year. With this news, many of us were confused, outraged and surprised. 
Why would they do this to us? We have been working fine while our cameras have been off, we thought. However, this is not always the case. Many have been prone to stay in bed all day and partake in a full day of school without being seen by their classmates (this has been many teenagers' dreams throughout high school)! Yet, this reality has not been very successful when it comes to comprehending the material and participating during class. The quality of a conversation lessens when one student has their camera on while the others have it turned off. Talking to an icon does not fulfill the human connection many of us have been longing for during COVID-19.
Though any policy feels as though it is created to end any freedom students in high school have, this one (as do many others) is made to benefit the well-being of Boulder High students truly. Being students, we are used to rules feeling suffocating (think the phone policy). Last year, the phone policy at Boulder High felt as though we couldn't use our personal property. Many students believed it to be unnecessary, but it was essential. Without this policy, we would have never paid attention in class. We would have gotten ready, gotten to school, sat down at our desk and scrolled on our phones for hours. Luckily, with a strong will and the policy, we never had our phones taken away and we were able to stay focused on different subjects. This policy, all though not fun at times, was set with the intent to benefit the well-being of students. This is the same as the camera on policy.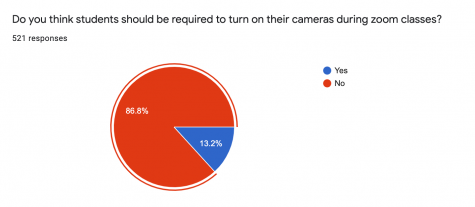 There are many reasons why a student may turn off their camera during class. Whether it be due to feeling like having your camera on is an invasion of privacy, a distraction to focus or just not worth the hassle, students seem to prefer to hide behind their self-selected icons overwhelmingly. In a quarter of the school population survey, we found that 86.8 percent of students wouldn't favor a requirement to turn on cameras. Many agreed that whether they turn their camera on depends on the class and what's happening in their home environments. 
Going into this school year, administrators and teachers had expected that students would want to turn on their cameras, and so while it was on the table, it wasn't required or heavily encouraged. But this wasn't the case. With cameras off, it has been difficult to gauge whether or not students were engaged. While only 2.3 percent of students said they didn't pay attention when their cameras were off, how can a teacher be sure?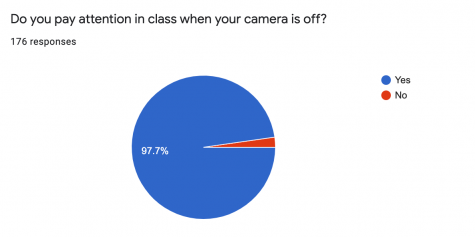 The three main reasons anonymously surveyed students shared that they turned their cameras off was a sense of privacy, not wanting to be on camera or that they often find themselves multitasking. Some students explained that in their home environment, they were responsible for caring for their younger siblings while their parents were at work while often helping them during class time. Many also reported that they were eating or doing something they didn't want others to see. 
Students also worried that having a required camera on policy would affect their mental health negatively. One passionate student referenced that "ANXIETY!!!!!! [And] STRESS!!!!!!" as the main reasons they didn't turn on their camera. A point made by yet another student explained that "we are self-conscious highschoolers who hate staring at ourselves in the first place… [it's more important that] …students [are] learning instead of being distracted by themselves."  
There were also many pleas of students craving privacy. Many explained that they "may be sharing workspace with siblings" or that their "desk was in [their] room" and didn't want everyone to see their living space. An even more common response was out of paranoia surrounding privacy. Many students feared "other students recording/screenshotting [them] without [their] permission." 
All of these are viable worries, but speaking with Dr. Hill, we were able to understand how these concerns can be looked at without anxiety and stress and learn what he suggests for this circumstance. 
Dr. Hill said that this conversation "started at the beginning of the year with all high school principals and district leaders. One of the main reasons that we went into [the year] without [a cameras-on policy] was because of equity and privacy." But as the year has gone on, they've realized that at several schools, "it's hard to engage students sitting there looking at an icon…and [they've] realized there are some students, unfortunately, that are logging on and are not there. They're making sure that their cameras are off and they're muted, and that's not conducive to learning." Overall they decided that the best way to make sure students are learning is to encourage and require cameras to be turned on. When it comes to privacy concerns, Dr. Hill strongly suggests that students use the background blur feature that has been added to Google Meets. 
That said, Dr. Hill and the administration completely understand that there are some cases in which turning on one's camera is either not an option for home situations or students' mental health. In that case, parents can contact the school and opt their children out of turning their cameras on, hoping it will help reduce anxiety. 
Dr. Hill continues, "we're trying to create as much as we can an environment that's conducive to learning, so our default will be to leave the camera on," as opposed to a sea of icons. But, "it's not going to be a situation where [admin is] punitive or teachers say "put your camera on, or you're going to fail," but the expectation will be that unless we hear [otherwise] from a parent" students will be expected to have their cameras on. 
While this is required, Dr. Hill stresses that this is not a "do this or else" situation. This is the default, but there will still be situations where students will be allowed to and encouraged to turn off their cameras.
Administrators plan to work with students to determine why students are coming to class with their cameras off rather than punishing or suspending them. This is a tough time and of course, mental health and financial wellness are being considered with this new rule change. Teachers are instructed that "if a student has their camera off, they should assume that it has been approved" then afterward talking to administrators and counselors who will then reach out to students. "If it's a unique situation…and a student needs to be excused for just one day, [Dr. Hill] thinks that's fine." This is a new situation for everyone, and the administration plans to make sure this situation is comfortable for everyone.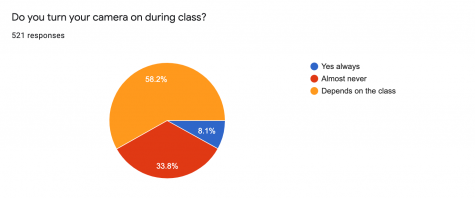 Discussing our survey, Dr. Hill shared that he doesn't expect students to be excited about this rule change. "They're in a place to have a system and ensure the successes, safety and welfare" of students. Dr. Hill believes that the key to this new rule change to work is communication. Administrators have worked hard to develop answers and a plan for whatever situation may arise; it all just starts with a conversation. "As educators, we know the importance of those interactions with students and teachers." He continues, "just like at the end of the semester where students may feel [unhappy with their final grade] and come to a counselor or an administrator, [students] are looking for support in those areas and the more you're engaged in a lesson," the more positive the outcome is likely to be. 
As far as a few students' worries that other students may be "recording/screenshotting [them] without [their] permission" goes, Dr. Hill brings up an important point. In today's technology-focused world, "that's always a concern, and if those things are going on, there will be consequences for taking unauthorized pictures. But, that could happen walking down the hallways or sitting in class in person…those things will always be a concern in a world with cameras." 
Dr. Hill tells us that it's not going to be challenging to get excused from class. "It isn't going to be a two-hour conversation with your parents and they won't have to fill out some long form." Dr. Hill, the administrators and the counselors are here to support students and encourage engagement, which they believe that having cameras on will do. 
With the start of the new semester and all new classes, this is the perfect time to be testing out this new policy and default way to attend online classes. Every new rule or policy comes with resistance. Still, hopefully, this one benefits our learning and ability to engage with the material and with one another in a time that is so hard to connect. And as far as concerns with privacy and anxiety go? We suggest talking to your counselor, talking to your teacher and falling in love with the background blur.