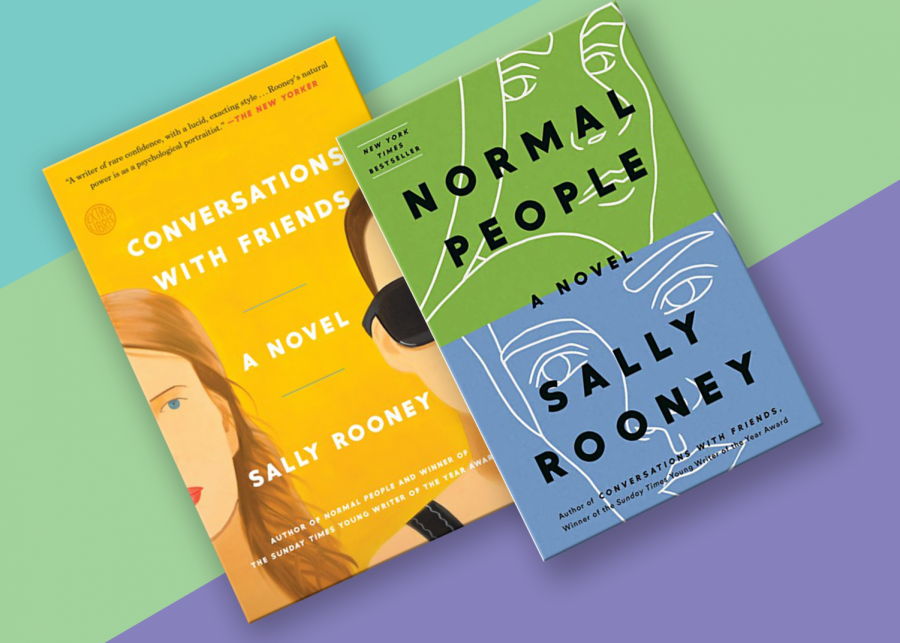 Keegan Jack
Since appearing in the literary scene in the mid-2010s, Irish author Sally Rooney has become a well-known public figure (at least among oat milk-drinking millennials). Normal People, her second book, was published in 2018 and drew widespread acclaim and attention, catapulting her into fame. The New York Times has published multiple reviews of her writing, amongst numerous other esteemed publishers, and Vanity Fair and Elle have both conducted interviews with Rooney. 
So, clearly, Sally Rooney has some hype. But it's hype that's very well deserved. 
I recently finished Conversations With Friends and was just as struck by Rooney's writing as I was with Normal People. The stories in her books are simple and almost uneventful, yet they are utterly addictive. Both books follow the changes in the lives of young, college-age women, and delve into the interpersonal dynamics of interactions within love and relationships. Yet they aren't just romance novels; rather, they profoundly reflect much of what constitutes our lives. Rooney manages to pull off the magic trick of creating escapism into "real life", and that reflection causes the reader to realize the important parts of human existence. Her writing is exceptionally unique and very philosophical—yet her writing is void of any sort of philosophizing. 
Reading Normal People or Conversations with Friends feels like an experience that's familiar and also completely different. This is a result of Rooney's unique writing style, but also because of her authentic portrayal of modern life. Her books explore the topics of monogamy, queer identity, physical intimacy and body dysmorphia, amongst others. Her characters deal with struggles that still carry stigma, yet her writing emphasizes the validity of these polarizing ideas. In doing so, Sally Rooney challenges societal norms and encourages her reader to do the same. Sometimes, the storyline of her books takes a dark turn and becomes unsettling, delving into mental health struggles and internal crises. I remember feeling lost while reading parts of Normal People for the first time, feeling misled and vaguely uncomfortable. Eventually, though, I realized that momentary darkness was just as valuable as the lighter parts of the book, and wasn't actually disturbing; rather, it was an accurate reflection of existence and a testament to the fluidity and, sometimes, the pain that constitutes our lives. Normal People is coined "normal people" for a reason. 
Rooney's fictional worlds rest in a perpetual grey space. They don't focus on the meaning of interactions or events or circumstances but allow them to speak for themselves—with an almost unbearable sense of vulnerability. It feels refreshing and uncommon. As a result, that aspect of transparency is perhaps the most impactful part of Rooney's writing, displayed with an intimacy that feels like it ought to be confined to the physical world rather than able to be conveyed in written language. The richness and depth in her stories is unexpected and impactful. (To quote my mother, "it's kind of mind-blowing when all she's writing about is like…nothing, right?"). 
While some of her writing takes on an intellectual tone, what's at the core of Rooney's writing is something quite beautiful. Rooney distills the clutter of reality that can make our daily lives feel overwhelming, while still managing to retain its complexities. By making things simpler, she unveils that it's the connection with other people that gives life meaning. Her books are more like extended poems about love—platonic, romantic and all the in-betweens. Her books are hopeful, not because they necessarily have positive or perfect outcomes, but because they highlight the beauty of simply being alive. 
In an interview at the end of Conversation with Friends, Rooney says "For myself, I would like the book to offer a little solace into dark times—not by providing any straightforward consolation about where we're headed, because I'm not sure that's possible at the moment, but by defending in some small way the possibility of love." 
In this dark time, when the importance of connection with those we love is all the more accentuated, Rooney's writing does exactly that.