Torchy's Tacos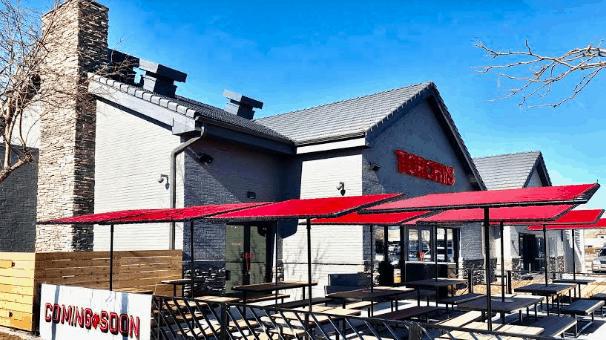 Torchy's Tacos, one of the most popular taco restaurants in Denver is opening a new location in Boulder! Their newest location is replacing Turley's Diner. Although it is sad that we must say goodbye to Turley's, we do get good tacos! According to a Torchy's manager, each new location has welcomed a long line taking two hours to go through. According to the Torchy's website, they have 81 locations across five states, most of which are in Texas, where the company started. I was talking to one of the Torchy's trainers, and he said that they have welcomed many celebrities, one of the big ones being Barack Obama. 
When you walk in, you notice how much smaller it is than Turley's. That is because it was split into two parts, one being Torchy's and another being a salad shop that is still far from completion. The inside is very nice, and the most notable aspect of the inside is the giant "DAMN GOOD" sign. "Damn good" is their motto. The "vibes," as they call them, make it feel less like a fast-casual restaurant, and makes it feel more upscale.
When you walk in, you walk to the front of the store and order. They then give you a number and once your food is ready, they bring it out to you. You can compare the ordering experience to that of Noodles and Company in that you walk up to a cashier and order, and the food will be delivered to you, and you take care of your own dishes. All of the staff seem like they are a family and they really try and include you within that family. For example, you are supposed to take care of your dishes, but the bussers will try and take it for you. These little things make it seem more upscale than its competitors.
The food is great: they have something for everyone. They have a gluten-free menu, fish tacos, vegetarian tacos and the traditional tacos with meat. They have very creative names that definitely tell you what they are but also give you a little chuckle. Take the Trailer Park for example. This is a fried chicken taco. This totally makes sense because that sounds like something you would find in a trailer park. Also the Brushfire, which is the spiciest taco, and it definitely lives up to its name. According to Torchy's staff, the most popular taco is the Trailer Park followed by the Baja Shrimp. Junior Olivia Malmberg had this to say:"The Trailerpark is the best! It's so simple, but it's so good!"  
If you want to try out these "damn good" tacos for yourself, then you can stop by Torchy's at 2805 Pearl Street. Trust me, you will love it.