Rocky Mountain Landslide
Boulder High boys basketball snatches a victory in Boulder v. Rocky Mountain showdown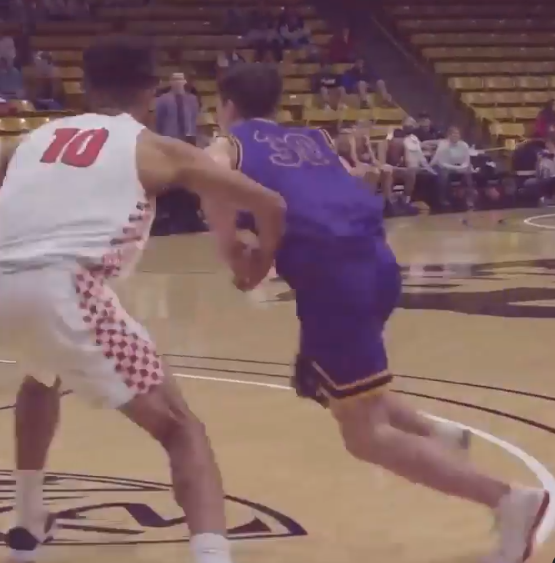 On Tuesday, Jan. 21, the varsity boys basketball team made the trek up to Fort Collins to take on Rocky Mountain High School in a Front Range League matchup. Heading into the game, Boulder held a record of 9-3, while Rocky Mountain sat at 8-5. Boulder appeared to have a slight advantage coming in, but the teams were toe-to-toe for a majority of the game.
After a slow first quarter, a Panthers blitz early in the second had Boulder in control. In the waning moments of the first half, Rocky Mountain stormed back, finishing the half 26-25 to the hosts. A lackluster Boulder defense and a struggle to break down the Lobos'  zone defending seemed the source of Boulder unexpectedly trailing going into the locker room.
The Panther's coach Riley Grabau clearly inspired his players at halftime, as the Panthers raced out to a 38-34 lead by the end of the third quarter. The difference in score could have been larger though, as Grabau's team committed numerous unnecessary fouls, sending Rocky Mountain to the line and easily letting them close the gap. 
It seemed as if Boulder had shaken their foul-happy tendencies by the start of the fourth quarter, but several players continued to give away silly fouls, which held the Panthers to just a four-point lead with five minutes left in the game. Rocky Mountain proceeded to put the pressure on, and the momentum swung Rocky Mountain's way when they tied the game with just two minutes left on the clock.
With one minute left, the score stood at 54-54. A haggard Boulder team appeared short of ideas as they headed into the final stretch while their opponents had all the confidence. However, an inspiring seven points—one three-pointer and two mid-range shots—from junior Jimmy Starry sealed the game for the Panthers. The fast-paced final minute led to a final 63-55 win for the Boulder High boys.
Said Starry, "It was a good team win. It wasn't just specific individuals; all 11 guys contributed." When asked about his impressive end to the game, Starry humbly noted, "I'm glad the shots went in. Every now and then they've got to fall. Kudos to my teammates for finding me open."
Be sure to tune into the remainder of the Boulder High boys basketball season as the Panthers turn their attention to winning the Front Range League and making a deep run in the playoffs. Good luck to the team, and #skothers.