Spotted: Boulder Art Car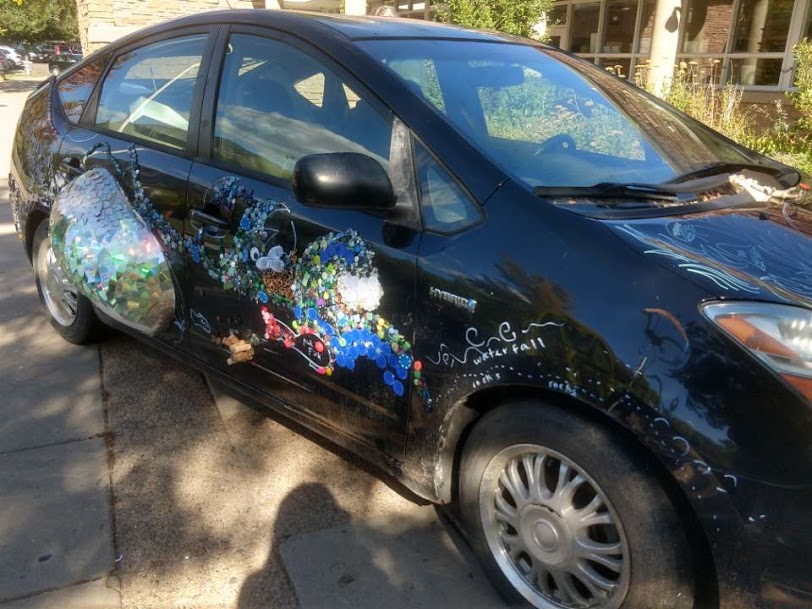 If you've spent any time outside the school near the art room, you might spot something odd: a black Prius, covered with bright beads, CDs, and plastic toys, situated just outside of the doors. It's the Art Car, which the National Art Honors Society (NAHS) members put together. Milena Pajevic, a senior, said that she thinks the car is, "a very good way to bring the Boulder High art community together." The car is currently being worked on by NAHS and art students alike.
The creation of the car is being supervised by Mark Moffett, who specializes in Art Cars, but the inspiration and ideas for the car came solely from NAHS students. Lauren Leland, a junior at BHS and a member of NAHS, told me that the car was a representation of the current environmental situation and that they were inspired by events such as the Amazon fires. They hope to "bring awareness to the climate disaster."
The car depicts scenes of the environment, and as you move from front to back, the bright blue and green scenes eventually drift and decay into muddled browns. A snake weaves in and out of the image, decorated with flashy CDs. Seas of blue beads and green buttons swirl together to depict the ocean, while plastic blue pipes and bright red pigment create coral.
Most of the materials on the car were donated from places like McGuckins, Art Parts, Resource, True Hospice, Charm and Ecocycle. The students wanted to use mostly recycled materials in order to keep with the environmental theme. Even the car itself was donated from Boulder Hybrid.
And BHS isn't the only stop for this Art Car. It will be included in the Parade of Lights in December. Even before then, several different groups from all over Boulder will be working on it. Kids from organizations such as AVID, Attention Homes, and Adelante!, as well as other kids with special needs from other BVSD schools will have the opportunity to add their own touch to the car. Mouffett has also brought in local artists to work on the car, allowing students to get work time with local artists. Alex Gelderman, a visiting artist from the University of Kentucky, worked on the snake with a sculpting undergraduate.
The car isn't limited just to art students at Boulder High. Anyone who wants to work on the car is welcome to! It's open for work on Wednesdays from10:30-5:30 and Thursdays from 11:30-5:30. NAHS is hoping to finish the car by the end of October, so be sure to drop by and help out!