The Girl You Never Knew You Had To Know
Hang on for a minute...we're trying to find some more stories you might like.
Maddie Munro is the girl you never knew you had to know.  Only a junior, Maddie is already an accomplished skier, an avid foodie, and an international cyclocross bike racer.  She recently returned from an adventure in Bogense, Denmark, traveling with the USA U23 Women's National team for the Cyclocross World Championships where she placed 25th of 55 enlistees.    
You may recognize Maddie as a Boulder High mountain biking star, but cyclocross is slightly different.  In mountain biking, races cover 12-18 miles with technical sections that could include rock gardens, roots, steep drops or major climbs.  On the other hand, cyclocross courses consist of five to six laps with a total of about 45 minutes of racing. These courses have many obstacles that may require the rider to carry the bike, ride through sand pits, and climb steep stairs or hills.  Obstacles, regardless of the race, are sources of technical points as well as injury: luckily, that isn't our story. In fact, Maddie confesses, "I like running the stairs!" And while the racing atmosphere might be similar, the prefered weather for each of these races are opposites.  Maddie shares that mountain bike races usually occur in the sun and summer, but "the worse the weather is, the happier the cyclocross races are…That's just the nature of cyclocross."
Now if you see clips of this year's race, you might see the large crowds and the large number of racers and be apprehensive.  But ever since her dad exposed her to the biking world at a young age, Maddie has been enjoying the riding. For training, Maddie would spend countless days on the bike: rehearsing muddy sections, completing mock races, and riding next to coaches who would imitate aggressive competitors.  While she trained rigorously at home and in Europe, there was always a little time for culture tasting. After an earlier race in the Netherlands (The Hoogerheide World Cup was the weekend before Worlds and Maddie's first race in Europe), the team unwound with a screening of Madagascar and savory burgers.  Despite the nerves, the time with the great mentors, the inspiring teammates, the German candies and Danish pastries all came together for the ultimate race-day excitement where Maddie just let her passion steer her: "The start was wicked fast and from then on I just tried to keep moving up and riding clean."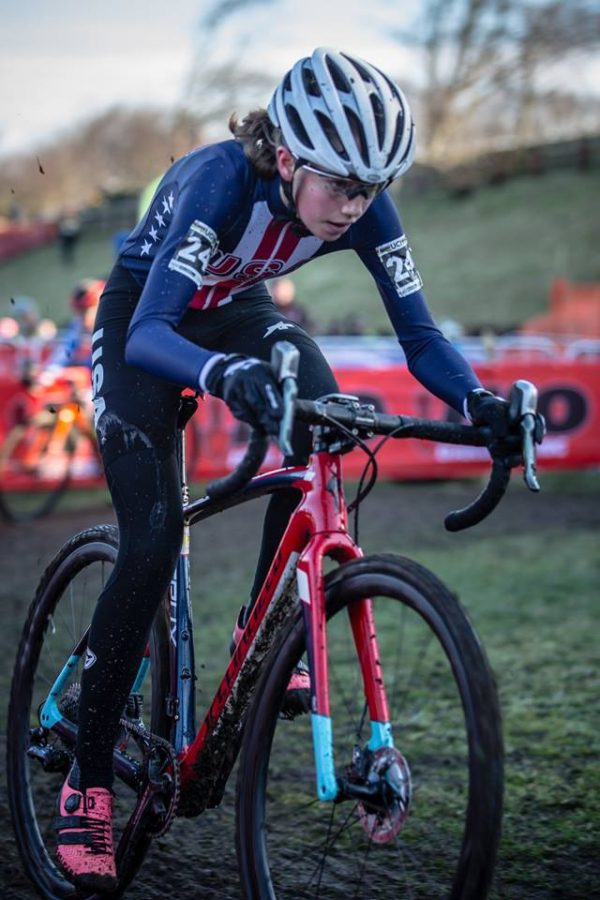 When describing the overall experience, Maddie says that the trip opened her eyes.  She met new people: making new friends with teammates and even meeting one of her all-time idols, Marianne Vos, with whom Maddie was so awestruck that, when they spoke, she almost fell off her bike!  She learned skills for on the bike. She learned skills for off the bike. Yet she shares that "one of the biggest, most valuable takeaways [she] gained from these races was how important it is to stay focused on the process [and] not the outcome or result."  And when you hear about all the fun components that compile into this exceptional opportunity, you realize that Maddie's process seems to be working. So while her goal is to gain more prestige for Women's cyclocross, to make the National Mountain Bike Team, and to possibly even go pro, for now, Maddie is home coaching young skiers, discovering all the different cookie/nut butters that Boulder has to offer, and enjoying the process.